Welcome to Pack 214!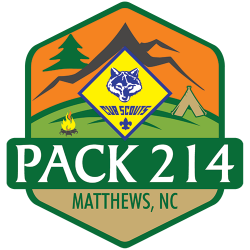 Cub Scout Pack 214 was chartered in February 1971 and has been serving scouts in grades K-5 in the Matthews, NC area . We are part of the Etowah District in the Mecklenburg County Council and are sponsored by Matthews United Methodist Church (MUMC).
Cub Scout Den Meetings are held on Tuesday evenings at 6:30 PM ET at the Matthews United Methodist Church on the first and second floors, with Pack Meetings scheduled for the second Tuesday of the month in the Eagle's Nest. MUMC is located at 801 South Trade Street in downtown Matthews.  The Eagle's Nest which is located at the end of the large parking lot. This facility serves as the primary meeting location for Troop 39 and additional meeting space for many ministries of the church.
Our goal is to foster the BSA vision of building our youth into conscientious, responsible, and productive boys by instilling in them lifetime values and developing ethical character traits as expressed in the Scout Oath and Law. We want to create an environment that fosters a sense of community while keeping the fun in scouting. As Baden Powell once said, we are building "Happy, Healthy, and Helpful Citizens."
We are required to ensure that all our leaders are properly trained, so our scouts can be mentored in a safe environment provided by our sponsor organization. In addition, we encourage our leaders to attend regular Scout training events and monthly round tables. We are proud to have past and present leaders who are Eagle Scouts and Wood Badge trained.
Many of our scouts go on to join Boy Scout Troop 39, also sponsored by MUMC.
It is our sincerest hope that if you or if someone you know is considering becoming involved in Scouting, you will contact one of our leaders.
Awards Pack 214 has received:
Journey to Excellence (AKA: Quality Unit) Award
1986 – 1989, 1991 – 2010, 2013  (Bronze Level), 2014 (Gold Level), 2021 (Gold Level)
National Summertime Pack Award
1986 – 1999, 2001 – 2004, 2006 – 2007, 2009, 2012, 2016, 2020
Friends of Scouting Award
2003, 2005 – 2010, 2017, 2018, 2019, 2020
100% Boys Life Unit
1980, 1982 – 1983, 1985 – 1999, 2002 – 2003, 2005 – 2006, 2008, 2010
Rotary Scout Show
1974 – 1976, 1983, 1993, 1995, 1996
2010 Anniversary Recruiter Award
William T. Hornaday Unit Award, 2013