2020-2021 Pinewood Derby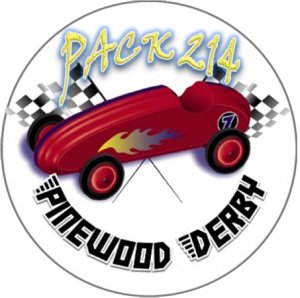 Race Central
This is "Race Central" for Pack 214's Pinewood Derby and it is one of the most popular Pack events.
Event Details
When: Saturday, April 24th, 2021
Where: Sweetwater Logistics – 3512 Faith Church Rd, Indian Trail, NC 28079
Times:
10:00 AM – 12:00 PM – Inspection / Registration
1:00 PM – Races Begin
---
Race Day Schedule
10:00 AM – 12:00 PM – Inspection / Registration
Cars will be checked for weight, length, width, clearance, BSA wheels and axles and adherence to Council rules. This takes approximately 15 min. But don't wait until the last moment, if there is a problem you will need to fix it and then re-check in before 12:00 PM.
If your car passes inspection, you can either hang out until race time or return later.
Stickers will be applied to cars once they pass inspection.
Cars will be impounded in a holding area until race time.
1:00 PM – Races Begin!
From this point forward cars are handled only by the Pit Crew running the race.
All results will be displayed to the crowd. Cheering is encouraged; however, good sportsmanship is mandatory!
Lane assignments are rotated, and each car will race in all four lanes against the same opponents.
The Scouts in each Rank will compete against one another for the fastest average time in 4 heats.
Top two finishers per Rank will go on to the Finals.
Race Schedule
(The following times are approximate.)
Rank Class Races (1:00 PM)
Rank Class Award Ceremony (2:00 PM)
Open Class Races (2:05 PM)
Open Class Award Ceremony (2:35 PM)
Outlaw Class Races (2:40 PM)
Outlaw Class Award Ceremony (3:10 PM)
Voting for Best in Show (3:15 PM – 3:30 PM)
Finals (3:30 PM)
Finals / Best in Show Award Ceremony (3:45 PM)
---
Cub Scout Pack 214
Pinewood Derby Official Rules
Qualifications to race:
All registered Pack 214 Tiger, Wolf, Bear, Webelos, and Arrow of Light Scouts, along with scout siblings, parents, or grandparents are eligible to participate.
Materials:
All scouts will receive the "Official Grand Prix Pinewood Derby Kit", distributed by the Pack Committee.
Cars for siblings and relatives and be purchased for $5 from the Pack Committee.
Race Categories:
Rank Class – Scouts will first race against their Rank. The first and second place cars in each Rank are eligible to move on to the Finals. Winners from this Rank Class race will receive a trophy.
Open Class – A race open to siblings and other relatives that will be held after the Rank Class races. Winners from this race will receive a trophy or ribbon. They do not move on to the Finals.
Outlaw Class – A race open to adults that will be held after the Rank Class races. Winners from this race will receive a trophy or ribbon. They do not move on to the Finals.
Attendance:
The Cub Scout must enter their own car. This means that the Cub Scout must be present at Inspection and Registration to enter their car into the Pinewood Derby.
New Work:
Construction of all entries in the Rank Class and Open Class must have begun after the prior year's Pinewood Derby.
Single Entry per Person:
Only one car may be registered by any person in the Pinewood Derby.
Inspection/Registration:
Each car must pass a technical inspection before it may compete. Car Design Standards are outlined below. Technical inspection and registration of cars occurs between 10:00 AM and 12:00 PM on Race Day.
A car CAN NOT be registered after 12:00 PM. No exceptions!
Failure to Pass Inspection – If a car does not pass inspection, the owner will be informed of the reason their car did not pass. Cars which fail the initial inspection may be modified and re-inspected up until the 12:00 PM deadline.
Impound:
No car may be altered in any way after it has been registered. After a car passes registration, it will be stored in the Staging Area by the Pinewood Derby Race Committee until the start of racing.
---
Car Design Standards
IMPORTANT NOTE: These Car Design Standards apply to the Rank Class races and Open Class races only, and not to the Outlaw Class races.
Pinewood Derby Kit: Each entry shall be constructed from an Official BSA Derby Car Kit for the current year. A new car must be constructed for each year.
Car Overall Dimensions: Each entry will be placed into a checking device. The overall length of the car shall not exceed 7 inches including accessories. The overall width of the car with axles/wheels installed shall not exceed 2 3/4 inches. The car must have a minimum of 1 3/4 inches of clearance between the wheels. The car must have a minimum of 3/8 inch clearance underneath the entire body so it does not rub on the track.
Car Weight: The maximum weight of the car shall not exceed 5.0 ounces or 141.748 grams. The limit is strict 5 ounces with no "close enough" exceptions – the scale must read a maximum of 5.0 ounces or 141.748 grams. Given variability in scales, racers need to be aware that weighing to exactly 5 ounces on a different scale may result in over-weight at time of inspection and check-in, thus requiring weight to be removed or added to achieve 5 ounce maximum. If racers plan on adding weight at time of check-in, please be sure the weight is secured appropriately and any attached weights do not violate car specifications.
Car Body: The wood block provided with the kit must be used. The block may be shaped any way that is desired. Note the track utilizes a launching mechanism that holds the car in prelaunch position at the center of the front of the car. No part of the front of the car will be allowed to extend past the starting pin and the full 7 inches of car shall be behind starting pin.
Car Wheels/Axles: All four Wheels/Axles that are supplied in the box must be used and attached to the sides of the car with two at front of the car and two at back of the car. The original shape of the wheels and axles must be maintained. The wheels may not be cut, machined, lathed, drilled, beveled or rounded. You may remove the seams and imperfections from the wheels. Tool marks and other imperfections may be removed from the axles. Axles can be polished and lubricated with dry lubricant.
Car Wheel Position: Racers can adjust axle fore/aft axle placement as long as wheels do not protrude past front/back of car body. Pre-cut axle slots in the raw block of wood do not have to be utilized. If custom slots/holes are created, remember 3/8 inch clearance specification must be maintained. It is not necessary that all 4 wheels be in contact with the track but bottom clearance specification between car and track of 3/8 inch must be maintained.
Extraneous Car Parts: Car shall not have any loose or moving parts.
---
Resources
---