Popcorn Sales 2020
Popcorn Sales
Jump to:
Overview
Each year our Pack sells popcorn in the community to fundraise and teach our scouts to "pay their own way". This also teaches our scouts the following skills:
Goal setting
The power of persuasion
How to handle rejection gracefully
Perseverance
Math skills
Each scout (excluding Lions) is asked to sell $300 worth of popcorn. This can be achieved by selling to family and friends (virtually), online or going door-to-door using the Online Direct feature.
All Popcorn sales for 2020 will be done by each scout. The Pack will NOT be providing any physical popcorn to sell or collecting any money directly from the scout.
All Popcorn will be sold via the Trails End app or website:
Trails End Website – Recommend using Chrome or Firefox as the browser
How to use the Trails End App
Download App: Android Devices and Apple Devices
Products Available Online (PDF)
Popcorn Points Earned for Each Sale: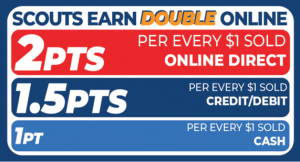 Important Dates
August 1st – You can start to sell popcorn for the 2020 year!
December 20th – Sales report will be pulled and calculated for each scout. At that time, the Amazon rewards will be approved and released to the scout.
Resources
Text the keywords below to 62771 to Download the following helpful information:
APP – Link to download the Trail's End App
APPGUIDE – App Quick Start Guide for Scouts (PDF)
MYPLAN – How to Sell $1,000 Social Distancing (PDF)
SCOUTFB – Link to join the Trail's End  Scout Parents Facebook Group
REWARDS – Trail's End Rewards Flyer (PDF)
Popcorn Prize Levels for 2020: